The club broke the record for the most money paid in a single transfer window after Pierre-Emerick Aubameyang joined Chelsea
The Blues' spending in 2019 was comparable to Real Madrid's, which totaled about £272 million. However, the anticipated £12 million purchase of Aubameyang has brought their total expenditure to a new high of £273.5 million, including add-ons.
In addition to paying a number of young players for their under-23 team, Chelsea have spent a lot of money on eight players this summer. The figures are not exact, though. Chelsea could add a midfielder to their roster before the transfer window closes, which would further boost their performance. On the final day, a £40 million offer was made for Edson Alvarez of Ajax.
Chelsea transfers 2022-23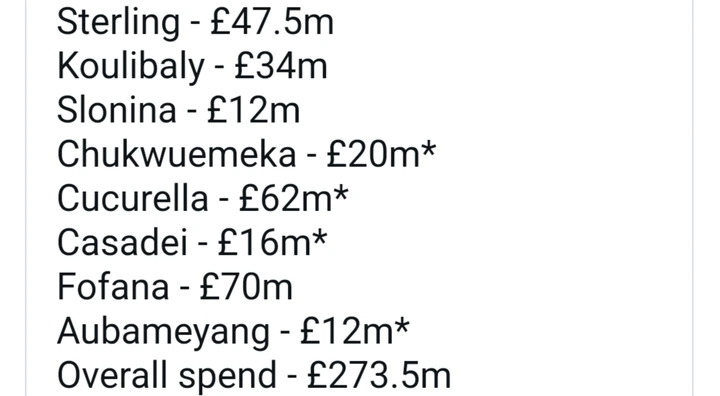 The Blues spent the most money on a defender from Leicester named Wesley Fofana during the transfer window.
After losing players like Andreas Christensen and Antonio Rudiger, Chelsea invested a sizeable portion of their budget in rebuilding their defense by signing Marc Cucurella from Brighton for £62 million and Kalidou Koulibaly from Napoli for £34 million. Chelsea's first purchase this summer was Manchester City forward Raheem Sterling. Chelsea spent £47.5 million on Sterling.
The remaining funds were used to attract new young talents like Gabriel Slonina (£12 million), Carney Chukwuemeka (£20 million), and Cesare Casadei (£16 million). Young prospects Tyler Dibling, Omari Hutchinson, Zak Sturge, Eddie Beach, Shumaira Mheuka, and Zak Sturge all claimed fees or compensation packages. However, these figures have not been added to the £273.5 million total. Even though Chelsea received just under £50 million in transfer fees this summer because of the sales of players like Timo Werner and Emerson Palmieri, new owner Todd Boehly has made clear investments in the first-team squad.
Manchester City was thought to have had the biggest window in British history before Chelsea spent $221.4 million in 2020. Manchester City spent £223.8 million in 2017. It remains to be seen how these transfers translate on the field